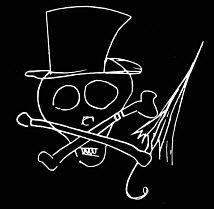 Ever wondered about the SDR's apparent hatred of umbrellas? Well the Luftwaffe's cartoon images of umbrellas being shot, hacked and thrown were a personal attack on

Neville Chamberlain

, Prime Minister of the United Kingdom

from 1937

to 1940

, nicknamed

Umbrella Man

because he often carried an umbrella in public and was invariably depicted with it in cartoons - sometimes even drawn as an umbrella. One such caricature appears on the Krachenvogel

decals

and

cards

.
But it wasn't just the luft. Below is a picture of Kriegsmarine U-47 ...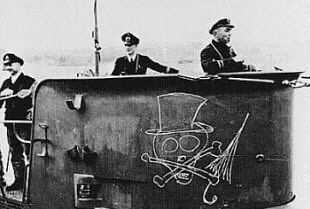 "A well-known photograph taken before U-47's departure to Scapa Flow on 8 October 1939 shows a drawing on the starboard side of the patchy conning tower. This drawing, of a skull and crossbones adorned with a top hat and umbrella, mocked the British Prime Minister
Neville Chamberlain
. Other U-boat insignia, such as those which adorned the towers of U-46, U-53, U-56, U-58, U-60 and U-61, also at some point included caricatures or references to Chamberlain."